Technical capabilities
Magnetic characteristics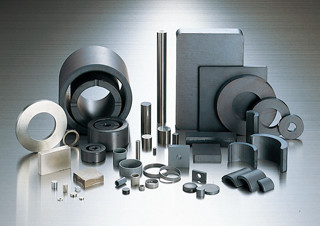 Each magnet has a characteristic shape due to its materialistic physical features.
Rare earth magnets;
This newcomer to the magnet industry with its high performance of both residual flux density and coercive force superior to all other magnets, allows for its very compact and thin design.
Alnico Magnets;
The most established and widely used magnets. Because of the low coercive force and high flux density, the material needs distance between N and S pole, therefore the shape employs a long and thin design. Usable at a high temperature due to a low temperature coefficient.
Ferrite magnets;
The feature of a relatively low residual flux density, coupled with a high coercive force makes material shape flat. Because of high availability of material, the economical cost is attractive to the magnet designers.
MA magnets;
Since the physical property is located between Alnico and Ferrite magnets, MA magnets features both characteristics and employs a thick and short shape.
Standard Rating Characteristics
Typical Magnets
Type of magnets
Rare Earth
Ferrite
Alnico Magnet
Item
Unit
Nd-Fe-b
Sm-Co
Isotropic
Ba-Ferrite
Anisotropic
Sr-Ferrite
by Dry
Anisotropic
sr-Ferrite
by wet
Alnico-5
Alnico-8
Brr
kG
12.4
10.5
2.2
3.6
4
12.7
8.8
mT
1,240
1,050
220
360
400
1,270
880
bHc
kOe
11.6
8
1.9
3
3.3
0.65
1.47
kA/m
923
636
151
238
262
51
117
Bhmax
MGOe
37
24
1
3
3.8
5.3
5.2
kJ/m3
294.5
191
8
23.9
30.2
42.2
41.4
Temperature
characteristic
of Br
%/℃
-0.12
-0.04
-0.18
-0.18
-0.18
-0.02
-0.01
Curie point
℃
320
750
460
460
460
850
850
Density
g/cm3
7.4
8.3
4.8
4.8
4.9
7.3
7.3
Rare Earth
Item
Unit
Nd-Fe-B
Sm-Co
Compositon
―
Nd2・Fe14・B
Sm2Co17
Molding Process
―
Imposing magnetic field
on the magnet
Imposing magnetic field
on the magnet
Residual Flux Density
Br
mT
1210~1270
970~1020
kG
12.1~12.7
9.7~1.02
Coercive Force
bHc
kA/m
867~979
557~836
KOe
10.9~12.3
7~10.5
Intrinsic Coercive Force
iHc
kA/m
>1353
716~1194
KOe
>17
9~15
Maximum Energy Product
(BH) max
kJ/m3
278~310
175~199
MGOe
35~39
22~25
Temperature Coefficent Br
%/K
-0.12
-0.04
Temperature Coefficent iHc
%/K
-0.58
-0.03
Curie Point
Tc
K
593
1093
℃
320
820
Recoil Relative Magnetic
Permeability μA rec
―
1.05
1.05
Density
g/cm3
7.4
8.3
Deflecting Strength
Mpa
245
118
Kgf/mm2
25
12
Compression Strength
MPa
1050
500~519
Kgf/mm2
107
51~53
Tensile Strength
MPa
44
36
Kgf/mm2
4.5
3.6
Specific Heat
J/(Kg・K)
0.50×103
034×103
cal/g・℃
0.12
0.08
Vickers Hardness
HV
600
550
Thermal Expansion Coefficient
Vertical
ppm/K
5.5~7.5
8
Thermal Expansion Coefficient
Vertical
ppm/K
-3~0.5
11
JIS
―
REFe280/120
RECo160/70
MMPA
―
―
―
Magnetic Field To Be Charged
For Magnetization
kA/m
2400
1990
KOe
30
25
Electric Resistance
nΩ・m
1.3×10-4
0.8~0.9
Ferrite
Item
Unit
Isotropic
Anisotropic by Dry
Anisotropic by Wet
Compositon
―
BaO・6Fe2O3
SrO・6Fe2O3
SrO・6Fe2O3
Molding Process
―
Dry Powder
Dry Powder
in Magnetic Field
Wet Powder
in Magnetic Field
Residual Flux Density
Br
mT
≧200
310~360
380~400
kG
≧2.0
3.1~3.6
3.8~4.0
Coercive Force
bHc
kA/m
127~159
220~250
230~275
KOe
1.6~2.0
2.8~3.2
2.9~3.5
Intrinsic Coercive Force
iHc
kA/m
135~167
280~320
235~290
KOe
1.7~2.1
3.5~4.0
3.0~3.7
Maximum Energy Product
(BH) max
kJ/m3
6.3~9.5
20~24
27~32
MGOe
0.8~1.2
2.5~3.0
3.4~4.1
Temperature Coefficent Br
%/K
-0.18
-0.18
-0.18
Temperature Coefficent iHc
%/K
0.22
0.27~0.42
0.27~0.42
Curie Point
Tc
K
723
733
733
℃
450
460
460
Recoil Relative Magnetic
Permeability
μrec
―
1.1~1.2
1.1~1.2
1.05~1.1
Density
g/cm3
4.8
4.9
4.9
Deflecting Strength
Mpa
29~68
49~88
49~88
Kgf/mm2
3~7
5~9
5~9
Compression Strength
MPa
>686
>686
>686
Kgf/mm2
>70
>70
>70
Tensile Strength
MPa
19~49
19~49
19~49
Kgf/mm2
2~5
2~5
2~5
Specific Heat
J/(Kg・K)
0.84×103
0.84×103
0.84×103
cal/g・℃
0.2
0.2
0.2
Vickers Hardness
HV
530
530
530
Thermal Expansion Coefficient
Lateral
ppm/K
9.9
11
13
Thermal Expansion Coefficient
Vertical
ppm/K
9.9
9
8
JIS
―
MPB-8/15D
MPS-24/24D
MPS-31/24W
MMPA
―
CERAMIC-1
CERAMIC-6
CERAMIC-8
Magnetic Field To Be Charged
For Magnetization
kA/m
800
800
800
KOe
10
10
10
Electric Resistance
nΩ・m
>102
>102
>102
ALNICO
Item
Unit
Alnico-5
Alnico-8
Alnico Sinter
Compositon
―
8Al-14Ni-24Co-3Cu-othersFe
7Al-15Ni-34Co-4Cu-othersFe
8Al-14Ni-24Co-3Cu-othersFe
Molding Process
―
Casting
Casting
Wet Powder
in Magnetic Field
Residual Flux Density
Br
mT
1250~1300
830~900
1150
kG
12.5~13
8.3~9.0
11.5
Coercive Force
bHc
kA/m
47.7~52.5
110~123
50
KOe
0.60~0.66
1.38~1.55
0.63
Intrinsic Coercive Force
iHc
kA/m
―
―
―
KOe
Maximum Energy Product
(BH) max
kJ/mm3
38.2~43.8
38.2~43.0
37
MGOe
4.8~5.5
4.8~5.4
4.6
Temperature Coefficent Br
%/K
-0.02
-0.02
-0.02
Temperature Coefficent iHc
%/K
―
―
―
Curie Point
Tc
K
1123
1123
1123
℃
850
850
850
Recoil Relative Magnetic
Permeability
μrec
―
3.6
3.6
3.6
Density
g/cm3
7.3
7.3
7.1
Deflecting Strength
Mpa
73.5
73.5
7.35
Kgf/mm2
7.5
7.5
7.5
Compression Strength
MPa
―
―
―
Kgf/mm2
Tensile Strength
MPa
37.2
37.2
37.3
Kgf/mm2
3.8
3.8
3.8
Specific Heat
J/(Kg・K)
―
―
―
cal/g・℃
Vickers Hardness
HV
650
650
650
Thermal Expansion Coefficient
Lateral
ppm/K
11
11
11
Thermal Expansion Coefficient
Vertical
ppm/K
11
11
11
JIS
―
AlNiCo37/5
AlNiCo38/11
AlNiCo S-34/5
MMPA
―
AlNiCO-5
AlNiCO-8
―
Magnetic Field To Be Charged
For Magnetization
kA/m
240
640
240
KOe
3.0
8.0
3.0
Electric Resistance
nΩ・m
4.7×102
4.7×102
47×102
Others
Item
Unit
Nd-Fe-B Bond
Anisotropic Rubber
Magnet
Isotropic Rubber
Magnet
Compositon
―
Nd2・Fe14・B
―
―
Molding Process
―
Compression
Injection
Rolling
Rolling
Residual Flux Density
Br
mT
640~710
640~710
230
1370
kG
6.4~7.1
6.4~7.1
2.3
1.37
Coercive Force
bHc
kA/m
570~760
410~620
135
102
KOe
5.7~7.6
4.1~6.2
1.7
1.28
Intrinsic Coercive Force
iHc
kA/m
370~470
250~400
―
―
KOe
4.7~5.9
3.1~4.9
Maximum Energy Product
(BH) max
kJ/m3
60~96
28~60
8.8
4.0
MGOe
7.5~12.0
3.5~7.5
1.1
0.5
Temperature Coefficent Br
%/K
-0.1~-0.15
-0.1~-0.15
-0.18~-0.19
-0.18
Temperature Coefficent iHc
%/K
―
―
0.35~0.5
0.35
Curie Point
Tc
K
※393
※393
※353
※353
℃
※120
※120
※80
※80
Recoil Relative Magnetic
Permeability
μrec
―
1.1~1.2
1.1~1.2
1.03~1.07
1.03~1.07
Density
g/cm3
5.6~6.2
4.2~5.5
3.7
3.7
Deflecting Strength
Mpa
49.0~58.8
―
―
―
Kgf/mm3
5.0~6.0
Compression Strength
MPa
―
―
―
―
Kgf/mm3
Tensile Strength
MPa
―
30000
666
392
Kgf/mm3
3061
68
40
Specific Heat
J/(Kg・K)
―
―
0.7~0.8×103
0.7~0.8×103
cal/g・℃
0.167~0.191
0.167~0.191
Vickers Hardness
HV
430
430
760
450
Thermal Expansion Coefficient
Lateral
ppm/K
13~15
50
―
―
Thermal Expansion Coefficient
Vertical
ppm/K
13~15
50
100~150
100~150
JIS
―
REFe63/64p
REFe63/64p
―
―
MMPA
―
―
―
―
―
Magnetic Field To Be Charged
For Magnetization
kA/m
2000
2000
800
800
KOe
25
25
10
10
Electric Resistance
nΩ・m
56×103
56×103
―
―