Handy Tesla Meter MG-801/ Related Products
MG-801 Free PC Control Application
Capable of monitoring and recording magnetic flux density.

Allows a personal computer (Excel) to collect and process data.

Allows downloading of Free PC control application.
Free PC control application
※Please fill questionary before downloading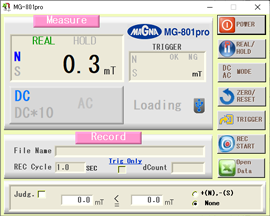 Please spare some time to answer this questionnaire.
Thank you for your selection of Magna Tesla Meter (MG-801). Your answers are valuable information for us to continue to provide better products in the future. Please answer the questions to the extent you will permit. Your orivate information is only being used for customer data of Magna.
If you want to download software, please visit this page from PC.